Fuel Cell Electric Pallet Truck 2Tons
PPT-20LC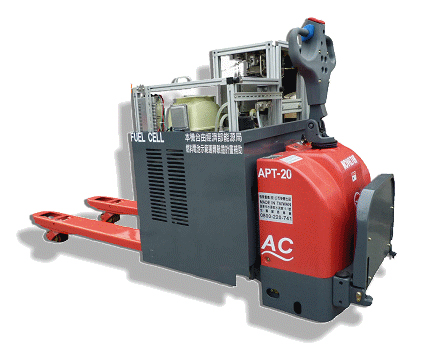 Feature:
Green Energy Technology products, without external charging, adding only hydrogen to work.
Inflated just 10 seconds, the system conversion to work eight hours for electric pallet truck.
With a more economical fuel cell power, save money, save time.
Clean, quiet, secure, safe, durable.
Arc streamline body, ergonomic applications.
All cars using the most advanced error-free PU paint, rust resistant and durable.
Suspended spindle, smooth running.
Tian Chuan font or fonts are applicable to pallet.
Pedal away, the walking speed will be half off, to ensure the safety of personnel.
Imported fuel gauge LED display, easy to understand.
Speed to follow the operator used to make adjustments.
Items
APT-20
APT-25
APT-30
Load Capacity
kg
2000
2500
3000
Load Center
mm
600
600
600
Lifting Speed
Empty
sec
1.5
1.5
1.5
Loaded
sec
2.0
2.0
2.0
Lowering Speed
Empty
sec
2.5
2.5
2.5
Loaded
sec
2.5
2.5
2.5
Tyres(Soft Solid Tyres)
Items
APT-20
APT-25
APT-30
Fork Wheels
Size(Std)
mm
Φ83x75
Quantity L/R
Standard
-
Size (OPT)
-
-
Quantity L/R
mm
Φ83x90
Size
Optional
-
Caster Wheels
Size
mm
Φ140x60
Quantity L/R
-
-
Material
-
-
Drive Wheel
Size
mm
Φ212x70
Material (Std)
-
-
(OPT)
-
-
Movement UP
mm
15
Movement Dow
mm
30
Drive
Items
APT-20
APT-25
APT-30
Traveling Speed
Empty
Km/h
6.0
6.0
6.0
Loaded
Km/h
5.5
5.5
5.5
Gradeability Speed
Empty
¢H
18¢H
18¢H
18¢H
Loaded
¢H
8¢H
8¢H
7¢H
Weight (Exc. Battery)
Kg
480
480
490
Battery and Motor
Items
APT-20
APT-25
APT-30
Battery 24V
Ah/5hr
184
184
240
Max.Charging Curent
A/24V
30
30
40
Motor
Traveling
kw
1.8
1.8
1.8
Lifting
kw
2.5
2.5
2.5
Invertor
traveling
AC Stepless
Lifting
Contactor Type
Steering & Brake
Items
APT-20
APT-25
APT-30
Steering System
Steering Arm
Steering Arc. Total
185 degrees
Traveling Brake
Type
Eletromagnetic Spring Pressure
Actuated Part
Drive Wheel
Parking Brake
Type
Eletromagnetic Spring Pressure
Actuated Part
Drive Wheel
Fork Width
| W1 | W2 |
| --- | --- |
| Overall Width | Lnner Width |
| mm | mm |
| 580 Standard | 230 |
| 635 Optional | 285 |
| 685 Optional | 335 |
| 510 Optional | 160 |
Body
| Items | APT-20 | APT-25 | APT-30 |
| --- | --- | --- | --- |
| | mm | mm | mm |
| Max. Fork Height | 205 | 205 | 205 |
| Min. Fork Height | 83 | 83 | 83 |
| Lifting Height of Cylinder | 122 | 122 | 122 |
| Overall Truck Height | 1325 | 1325 | 1325 |
| Height of Battery Room From | 750 | 750 | 750 |
| Overall Truck Height | 730 | 730 | 730 |
| Distance of Fork Wheels | 110 | 110 | 110 |
| Distance From Center of Fork Wheels To The Front Fork | - | - | - |
| When The Forks Are At The Lowest | 190 | 190 | 190 |
| When The Forks Are At The Highest | 250 | 250 | 250 |
| Platfrom Length | 447 | 447 | 447 |
| Platfrom Width | 600 | 600 | 600 |
| Height of Platform When Folded | 145 | 145 | 145 |
| Height of Platform When Opened | 45 | 45 | 45 |