Electric Pallet Truck 2Tons
PPT-20LC (can stand on the intermediate type)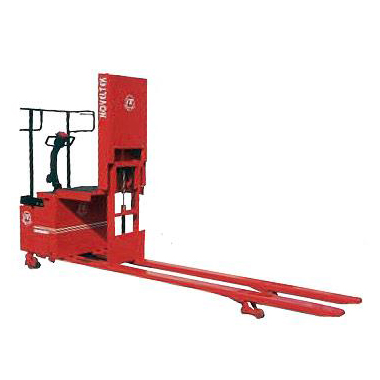 Feature:
Product Name: Order Picker Truck (Load: 2 Tons, 4400LB) (Center Drive Vertion)
The driver operated in the center of truck, safety and convenience.
Forks are the same as PPT forks used for open and closed pallets.
The driver could stand on the top of the truck body and pick up second or third floor goods on the racking.
Optional:
Picker's platform lift up to 900mm by electric hydraulic motor pump.
Item
PPT-20/25
Lifting
Rated Capacity
2000/2500kg
Load Center
600mm
Max. Lifting Speed
Empty
2.5sec
Loaded
3.5sec
Max. Lowering Speed
Empty
4.0sec
Loaded
2.0sec
Driving
Travel Speed
Empty
6.0km/h
Loaded
5.0km/h
Gradeability
Empty
17%
Loaded
9%
Weight of Truck
Service Weight
With Battery
688kg
Without Battery
465kg
Wheels
Fork Wheels
Dunebsuib
φ83x75mm
Quantity (R/L)
2/2
Materail
vulcollan
Castor Wheels
Dimension
φ140x60mm
Quantity (R/L)
1/1
Material
vulcollan
Drive Wheel
Dimension
φ212x70mm
Material
rubber
Movement Up
15mm
Movement Down
30mm
Battery and Motors
Battery Capacity at 5 Hours
180AH/24V
Max. Charging Current
30A/24V
Drive Motor Power
1.0kw/24v
Lift Motor Power
2.0kw/24v
Speed control principle-number of steps
(3 speed is optional, electronic mostet stepless is standard)
Reeietence-3 (option)
Steplees
Steering&Brake
Streeing System
Steering arm
Steering Arc. Total
185 degree
Travelling Brtake
Type
Electromagnetic spring
Actuated Part
Drive wheel
Parking Brake
Type
Electromagnetic spring
Actuated Part
Drive wheel
Model(PPT) Tons
20/25
Item
mm
Overall Fork Width (W1)
W1
580
Each Fork Width
175
Fork Inner Width (W2)
W2
230
Fork Length
L
1150
Max. Fork Height
200
Min. Fork Height
83
Front End Length
60
Overall Height
1400
Overall Width
800
Turning Radius
R2
1585
R1
1645
R
2025
Length of Body
(L1)
655
(L2)
720
(L3)
1095
Distance of Fork Wheels (M)
200