AC DPL Series Vertical Lift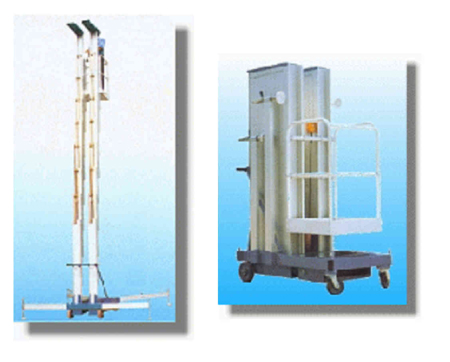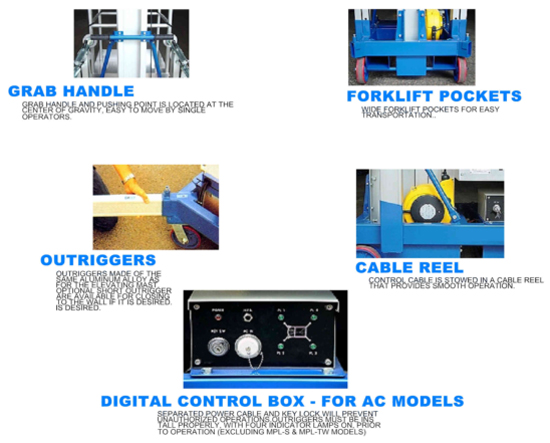 Feature:
Vertical Lift Comply With ANSI A92.3-1990 Standard & Safety Requirement
Parallel dual-mast (we called it as gemini type) design that enhances the stability and increase the maximum working height up to 13 meter or 39 feet. Low platform entry allows easy step in & out. Ac powered hydraulic lifting unit gives most reliable performance. Handy control switch on the platform allows single person operations.
Cat. No.
DPL-50
DPL-65
DPL-80
DPL-95
DPL-110
DPL-130
Max. Platform Height
5,000mm
6,500mm
8,000mm
9,500mm
11,000mm
13,000mm
Max. Working Height
7,000mm
8,500mm
10,000mm
11,500mm
13,000mm
15,000mm
Max. Load
160kg
130kg
Ext. Width (D)
1,550 mm
1,650mm
1,900 mm
2,285mm
Ext. Length (E)
1,650 mm
1,850mm
2,150 mm
2,600mm
Stowed Length (L)
1,200mm
1,300mm
1,390mm
Stowed Width (W)
760mm
Stowed Height (H)
2,000mm
2,080mm
Platform (A x B)
660 x 600mm
Rail Height (C)
1,000mm
Platform Entry (F)
500mm
Power Source
AC 110/220V, 50/60Hz, Equipped With A Power Cable (15M)
Weight (App.)
360kg
410kg
460kg
520kg
570kg
620kg